by phickman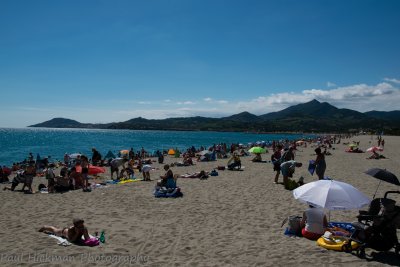 We spent 2 weeks in heaven this year.
Argeles Sur Mer
A place we have been before but this time a new campsite and just the two of us!
Camping Le Soliel is a 5 star site on the outskirts of Argeles Sur Mer one of the main resort towns of the area and the last of the wide sandy beaches. In fact the campsite backs right onto that white sandy beach, the back gate provides guests a convinent cut through to the beach litterally less than 100m from the gate to the main beach via a short walk through the low dunes. The campsite have thoughtfully provided a blue carpet walkway which makes access easy even for a wheelchair user.
Thursday 27th July 2016
After work I collected the trailer and headed home, pack the clothes and the fridge into the car, shower and a quick drink and we're off!
Down the M6, M1, M25 and then the A2 rather than the usual M20 route to Dover which had been a nightmare recently we chose the A2 M2 route which we happened upon by acident a couple of trips before.
We made our crossing in  plenty of time and had a nice smooth crossing arriving en Francais at around 4am local time. Set off down the A26 for an hour or so before finding a quiet aire where we had a sleep.
In the morning the traffic was not good. Lots of delays, so our leisurly drive with plenty of pit stops now became a constant plod with no time to stop and rest even to the point of Halys buying food while I refueled the car and carrying straight on, eating on the move.
Our route was to be A26 to Paris, A10, A71 to Claremont Ferrand then A75 all the way south over the Massive Central and the impressive Milau Bridge to Montpellier then pick up the A9 to Perpignan.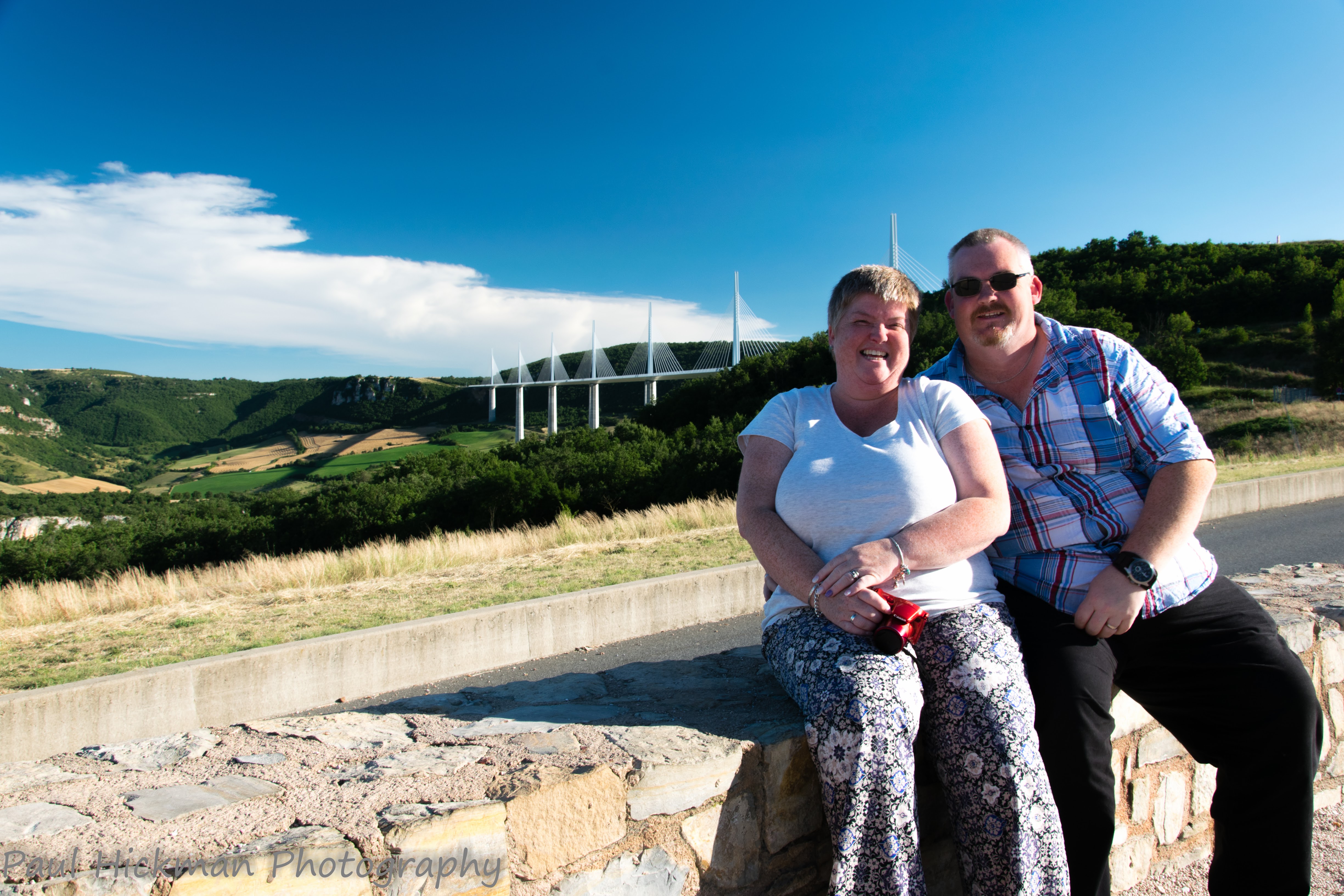 We Just had to stop at The Milau Bridge to take some photos!
 Perpignan Sud Ibis Budget
We decided that this year we would book a hotel after the long drive instead of searching what seemed like the whole of Langudoc Russilon region for a hotel 2 years ago.... Nice air conditioned room bottle of bubbly and a shower saw us settled for the night with only around half an hour drive tomorrow. Breakfast was next door in the Ibis Styles hotel..... Cracking Breaky...... set us up for the day.
Pit stop at the Hypermarche for supplies as we can't get on the pitch until 12 anyway and thankfully its cooled down since last night 32C when we arrived about 9pm.
We arrived at site and parked up, reception was a doddle and we went in search of our pitch, very close to the large toilet block, hmm could be noisy, lots of kids messing around doors banging, teenagers in the middle of the night etc...... Not a bit of it! each block had a security guard stationed their at night who also did a bit of cleaning.
Setting up the tent and we were beginning to struggle, Wow it's HOT!! so hot we jumped in the car and ren the engine to run the air con and drink some much needed water...... OOoops! Cooled down I think not! 39C and we are seting up a tent! We must be Mad!
We got it finished and went for a shower.  
Cheers
To Be Continued......
by phickman

How Long to wait?
Ages!
Our next holiday is not until August! OMG!!
We usually try to have a long weekend at Easter but with the timing of easter this year and the fact that One daughter is 21 at easter, the other is 18 In September and Father In Law is 80 In November we thought we would be better to limit ourselvers this year......Actually I think it was just bloody awful planning.
Anyway we are taking advantage of the great offer that Village Hotels had for a New Year Sale £20.00 a night per room.....We booked 5 nights and have also booked a Valentines night which we enjoyed.
Next Village night is April just after Easter.
Summer is back to Argeles Sur Mer but to a new campsite this time.... closer to the beach....well OK as close close as you can get....Walk out of the back gate and step onto the beach...... can't get any closer
Then it's Paris at New Year our 7th Wedding Anniversary on the Champs Elysees
by phickman

well we are currently sat in the garden having just finished a selection of Tapas and a nice bottle of red wine getting in the mood for a relaxing break in the Loire Valley......Yeah Right!
We have so many things that we want to see and do that I rekon I will be needing to get back to work for a break! Seriously though it will be fab to get away with just Halys and myself. We love to be able to sit outside in the warm weather with a bottle of wine and some tunes, not had much chance to do that this year at home as the weather has been just so changeable that by the time I get home from work what was a scorching hot day has turned into a real stormy evening!
Anyway we have just about packed a bag and bought a few last minute items. Just 5 more days in work for me and 5 more days stressing at home for Halys.....lol. It's at this point in the holiday preparations that she becomes increasingly stressed, trying to make sure she has got everything and that nothing will go wrong. It's like we have never been on holiday before. This is only the 5th camping trip to France and every other trip has been fantastic so why would this one be different?